To be precise, we use the original term incorrectly. A hair implant is not the same as hair, we do not even "get implants". The words hair implant, hair graft, micro transplant, micro implant, etc. should actually refer only to the TYPE OF PROCEDURE not the amount of hair implanted; although today this colloquial way of speaking is commonly accepted. Even so, an important clarification needs to be made in this respect: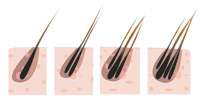 Human hair doesn't always grow in isolation but in groups of 1, 2, 3 and 4 hairs at most, and this is what we call FOLICULAR UNITS. On average, each follicular unit can be assumed to be equivalent to about 2.2 hairs.
*So, in a hair implant operation what we actually transplant are follicular units.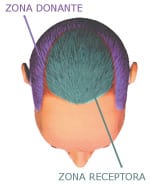 The first thing to bear in mind is that a hair implant operation will not increase the amount of hair you have but will redistribute it, that is, you will obtain it from your donor area (normally the occipital area) and implanted it in your recipient area.
These hairs (or rather follicles, as explained in the previous section) are genetically programmed to grow throughout life.
Because we implant follicular units and to do so one by one, we need the support of stereoscopic binocular glasses.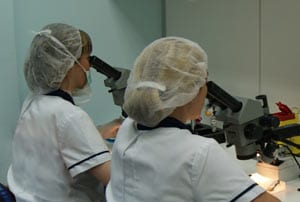 Without optical support, it is difficult to extract a single follicular unit and even more complicated to discern how many hairs form each one. In the past (and still today in some "hair clinics"), follicular units were obtained with the naked eye, which meant that they were often extracted all at once without any precision and many of them were also damaged.
When they were implanted in the receptor area there was a great loss of efficiency, since at the point where there should have been a single follicular unit, they ended up compressing several, some also in poor condition, and producing the infamous "Barbie" hair effect.
Basically two, the FUSS technique and the FUE technique, the latter being more modern, and we can be divide it into the FUE SAV-Sapphire or DHI technique (without visible shaving) and the FUE New Dense-Sapphire or DHI technique. The FUE SAV can be used for small quantity implants, up to 1500 f.u. (i.e. 3.300 hairs, remember this is equivalent to 2,2 hairs per f.u.) and under certain conditions the quality of the donor area. The FUE New Dense, on the other hand, permits many more implants and is performed in a single day, but in return it's necessary to shave the head.
In this section, we are simply going to list the basic differences between the three techniques. Although each one of them is developed in corresponding sections and in our hair implants blog, there are many articles and photographs to complement this information.
Main characteristics between hair implant techniques
Up to 4,000 follicular units in one day – 8,800 hairs! (so far, a European record)
Leaves no scar.
The head must be shaved.
Fast recovery since it's not a surgical procedure.
Since it takes less time, the price can be reduced by half compared to other clinics that perform the operation over two days.
For operations with few hairs to be implanted, up to 1,500 (3,300 hairs).
No need to shave the head.
For large bald spots.
It's an older technique.
A section of scalp is extracted from the area around the nape of the neck with a posterior suture.
It's a minor surgical operation.
It is used less and less in favour of the FUE technique.